FLOODGATE GAMES CONSTRUCTS A MASTERPIECE IN SAGRADA
WRITTEN BY ROB DUKE ON OCTOBER 18, 2017
     Games often reflect historical landmarks, cities, people and the like, giving a cardboard memorial and temporary spotlight if only for an hour or two. Whether you take on roles as head of an important family or painters working on Rennaisance murals, games are perfect to give attention to parts of this world that are almost lost in time. Game Designers Adrian Adamescu and Daryl Andrews along with Floodgate Games put you to work on stained glass windows in their newest game!
     In Sagrada, each player takes on the role of competing artists trying to create the most beautiful stained glass window in the Sagrada Familia, the large unfinished Roman Catholic church in Barcelona. Players will draft dice each turn to construct their masterpieces in this one to four player abstract game!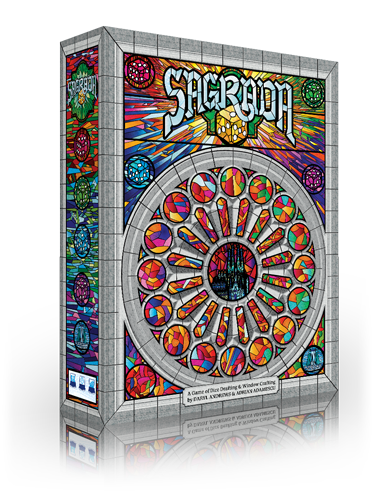 Each round, several six-sided dice are placed in a bag in which a player will draw two times the numbers of players plus one and roll them. Players will then take turns taking one die and placing them in one of the slots on their player boards. The challenge comes with the game's restrictions of placement. No two matching colors or numbers can be placed adjacent to another. Diagonal placement is fine. Also, the random card inserted into the player boards could also dictate which color or number goes onto a specific slot. 
     Once players have placed two dice, the final die goes on the round tracker. Then more dice are pulled from the bag and rolled. These dice are placed next to an already placed die on the player's board. This continues for a total of ten rounds.
     If a player makes a mistake, they could spend a favor token to use one of three random tools that are revealed at the beginning of the game. These tools allow players to break the rules from manipulating dice values to moving already placed dice to another slot. Use those tokens sparingly as the cost of using each tool increases per use.
     After the final round, players score their windows by three public objective cards and one private objective card randomly drawn at the beginning of the game. These can score anywhere from pairs of fives and sixes to columns of non-matching colors. The player with the highest number of points wins.
     Sagrada is a little game with big strategy! I love puzzles, pattern building, and dice drafting. Having all three elements, this game is an insta-hit with me. The amount of tension as you enter the final two or three rounds quickly builds as your placement options and favor tokens lessen.  Sagrada also makes an excellent family game. The box suggests ages 13 plus, but we have played this game with kids as young as ten. The game moves rather quickly and will keep your children's attention span while having fun.
    The only downfall to this stellar game is that it is a little prone to analysis paralysis. Keep that in mind when playing with others who like to take the time to (over) think all their placement options.
All in all, Sagrada is a fantastic game that deserves a spot on your game shelf. It's perfect for opening your game night if you need something light yet provides strategy to get your brain moving. I'm not a fan in general of abstract games, but I am a fan of Sagrada! 
IMAGE AND ARTWORK CREDIT: FLOODGATE GAMES